Granbury Office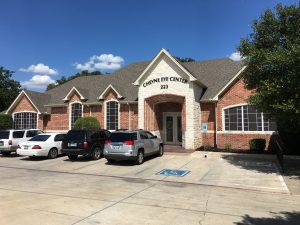 Cheyne Eye Center has been a leading provider of optometry services and vision care products in the Granbury community since 2002, and we want to help you achieve and maintain clear and comfortable vision for years to come. Our experienced eye doctors offer comprehensive vision examinations at our Granbury optometry office and specialize in the diagnosis and treatment of a wide array of eye diseases, conditions, and problems. We use advanced diagnostic technology and vision correction products and are committed to improving the quality of life of persons in the Granbury community through enhanced vision. Give yourself the gift of clear vision – schedule an appointment with your eye care provider today.
Chris Cheyne, OD

Dr. Cheyne is a Granbury native. His parents, Ron and Mary Cheyne, settled in Granbury in 1970. They have owned and maintained Ron's Pharmacy since that time. Dr. Cheyne is a proud graduate of Granbury High School. He played varsity baseball there and played drums in the Granbury High School marching band. He completed his bachelors of science degree at the University of North Texas in 1994 and his Doctorate of Optometry at the University of Houston College of Optometry in 1998. Dr. Cheyne then completed a specialized residency at the VA Hospital in Kansas City in 1999. There he received daily mentorship in a number of different eye disorders such as diabetic eye disease, macular degeneration, glaucoma, and retinal disorders for one year. Dr. Cheyne then moved back to Granbury to purchase South Harbor Eyecare from the late Dr. Larry Moore's family. In 2002 a new building was built with more space for both another doctor and for a larger optical. That building is our current practice location. He has been an invited speaker to the American Academy of Optometry, and a member of the Academy since 1994. He has also been a member of the American Optometric Association and the Texas Optometric Association since 1998. He has been a member of Vision Source since 2000. Vision Source is an international group of elite private practice optometrists. Their common goals are excellence in practice, strength in numbers, and bringing the best products in eyecare to our patients. Dr. Cheyne attends the Vision Source North American meeting each year. This is a 3 day conference educating Vision Source members on the latest programs available to its doctors. They also have a local Dallas/Fort Worth group that meets monthly to the same end. He is also a member of Lakeside Baptist Church. He, his wife and two children attend and serve there regularly. Dr. Cheyne enjoys playing golf and home improvement.

Robert Yeaman, OD

Dr. Yeaman received his Bachelors degree in 1985 from the California State University at Sacramento. He attended the University of Houston College of Optometry, earning his Doctorate in 1989, and is Board Certified as an Optometric Glaucoma Specialist. He has been a member of the American Optometric Association since 1985 and the Texas Optometric Association since 1989. He has previously served as President of the Mid-Texas Optometric Society. He joined Cheyne Eye Center in 2002. Prior to joining Dr. Cheyne, he practiced with Vision Source – Arlington, and South Harbor Eye Care in Granbury.